Crybaby came to live with us in 1981. She was one of a litter of three cats.
Her birthday was sometime in October.
There is no other name better suited for her than Crybaby as she was very vocal.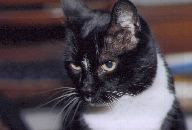 She was not too thrilled to have 2 Salukis and 2 IGs for room-mates, but had her own room for the most part.
She loved to sit on my lap when I was at the computer and even tried to type at times, much to my dismay.





She is 19 years old in the photos and the vet guessed at her last check-up that she was 9 or 10! She wore her age well!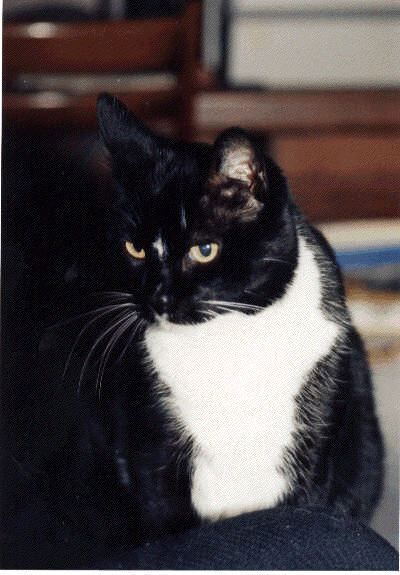 Crybaby hated to be photographed, so these are the only images I have of her.

Sadly, Cries went to the Rainbow on 12/23/02 at the age of 21 and almost 3 months.
A truly remarkable age for a truly remarkable kitty.
She will forever remain with us in our hearts. Run free, dear Cries.


Crybaby Cat
What will I do now that you're gone?
No cry when I enter the room.
No bright yellow eyes peering at me.
No lovely black and white fur to behold.
The look of a kitten at 21.
We were together since your earliest days.
The jump into my bath-astonishing!
No mouse or chipmunk was safe from you in your younger time.
You patrolled Karen's yard as if it were your own.
A special bond between us that will never end.
Crybaby was a silly name but it suited you.
I will always love you, my special friend.
You're in my heart forever.

Copyright ©2003 Patty Woodbury
--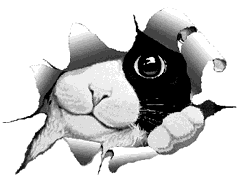 Home